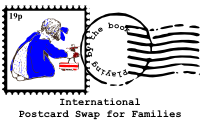 I read about an
International Postcard Swap
this morning, thanks to
Jojo
, and wanted to spread the word. Postcards are great for your culture boxes and to extend your geography lessons. Plus, isn't it just fun to receive mail from around the world? Postcards look great
displayed on a shelf
or
countertop
. Or, make a book with them by sliding them into the slots in a photo album and looking at them over again. Click the image above to jump to the website to sign up!
I also wanted to extend a big thank you to Anna for including this blog on her list of
I'm way too excited and honored that my blog made the list with so many other wonderful resources.
A rich treasure box of great sites are listed here.♥